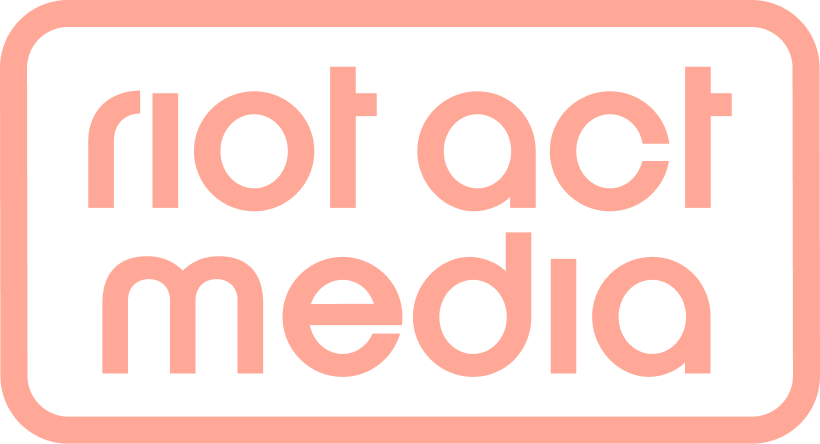 Artist
---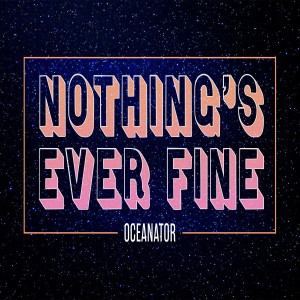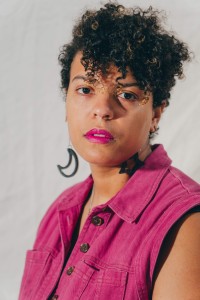 IMAGES: To download, click above. Photo credit to Alex Joseph.
LINKS:
Polyvinyl Record Co.
Bandcamp
Soundcloud
Spotify
Instagram
Facebook
Twitter
Oceanator
Polyvinyl Record Co.
"The cars break. Everything goes slow motion. There's disaster and fire," foretells Elise Okusami, describing her cinematic vision of the end of the world. Apocalypse is a subject she mined in acute detail and to critical acclaim on 2020's Things I Never Said, her debut full-length as Oceanator. But in her most recent cataclysmic telling, she keeps the camera focused on the people who survive and need to keep on living. A couple escapes the wreckage in a classic pickup truck, their dog riding in the back. They find a new home in the woods and consider how to start over. "It could either be hopeful or negative," Okusami explains of the tale's ambiguous ending. "You're either walking off into a nice sunset or going off into a black hole. For me, it depends on the mood; it can be both ways."
Those speculative vignettes inspired polymathic Okusami to begin writing a short film—one she ultimately scrapped in favor of putting those themes to music. These vividly imagined scenes comprise the sunrise-to-sunset arc of her resplendent new record Nothing's Ever Fine, the first Oceanator has recorded for Polyvinyl and the already-shredding project's heaviest collection yet. This narrative of doom and hope told over the span of a single day is reinforced by a thrice-recurring leitmotif—appearing on the tracks "Morning," "Post Meridian," and "Evening"—composed on Okusami's newly beloved Reverend baritone guitar. She used it to write several of the songs' knottiest riffs, lending a gut-punching low register (perhaps indebted to her past experiences playing in thrash and hardcore bands). But like on previous Oceanator recordings, Okusami's characteristic ease with bright hooks still shines, and the wide-ranging influences of '80s power pop, '90s melodic punk, Americana, film scores and Civil Rights-era vocal groups lend textured complexity to the collection. Okusami uses these sounds to explore anxious nightmares, nostalgia for late night adventure, the fog of depression, climate catastrophe and cautious optimism for the future. It's material ripe for an end-of-days flick, sure; but it's also the reality of living with the noise in your own brain in America's 2020s.
Though Nothing's Ever Fine's earliest song dates back to 2014, and several others were written on or after tours in the intervening years, Okusami reconfigured and demoed these songs alone at home between 2019 and 2020. Thanks to the covers recording, live streaming, and documentary scoring she partook in over the past few years, as well as wisdom gained from running the record label Plastic Miracles, Okusami brought a leveled-up ear for production to this album. She also found herself reinvigorated on the guitar, unafraid to tackle some of Oceanator's most ambitious and masterful playing yet. On the album itself, in addition to performing guitars, synths, bass, keys, and vocals, she serves as co-producer. That role is shared with her brother and longtime bandmate Mike Okusami, as well as her friend Bartees Strange. Working at Falls Church, VA's 38 North and at Mike's space in Maryland, the trio eschewed traditional live tracking in favor of recording parts separately as overdubs. They focused on sonic exploration and worldbuilding, dialing in sounds and experimenting with a Wurlitzer, B3, Leslie, and mellotron, among other synths and boutique effects. While the Okusami siblings have decades of collaboration and trust built up between them, which informs Mike's seamless contributions on bass, drums, and piano, Bartees proved to be a trusted third partner, matching Mike's excitement on the technical side and working closely with Okusami to find the dream guitar tones she sought—equal parts crystalline and crushing.
Longtime Oceanator collaborator Andrew Whitehurst performed drums on most tracks, bringing extra care and attention to his parts; he sounds especially buoyant powering through the skate-speed fills of "The Last Summer," a Cherry Coke and french fry-flavored recollection of Okusami's DC-area teenagedom. Chords push and pull like the twists and turns of the Saturday night Okusami revisits; "I'm feeling so alive with my heart open wide," she sings in an in-the-round vocal coda, just after blazing through an eviscerating solo. Things I Never Said engineer and bassist Eva Lawitts played a five-string bass on "From the Van" and on "Stuck," amplifying the sound of two of the album's most massive tracks. The latter of those songs swirls around a detuned guitar climb, using layers of fuzz, palm muted riffs and sludgy, grooving drums to blast through the feelings of stagnancy Okusami outlines: "I feel heavier than I used to," she deadpans, sinking in to the parallel heaviness of the recording.
On lead single "Bad Brain Daze," which busts through the hazy pallor of unavoidable anxiety with stop-start guitar rhythms, telephonic synths and juxtapositionally cheerful melodies, Okusami recruited labelmate and recent tourmate Jeff Rosenstock for saxophone. Of their 2021 gigs together, Okusami says: "It felt like going on tour with a bunch of friends. It felt cool to know that even as shows get bigger, we could still have a little community." To weave an even greater web of support through the track, she threaded in gang vocals from friends and peers in the bands Groupie, Bad Moves, Maneka, Sonder Bombs, Long Neck, Late Bloomer and Alright. "It's a chorus of friends all going through it," Okusami explains. "It felt nice to have that connection, even if it was pieced together with emails of files."
With a lifetime of playing in and alongside so many bands of friends, it makes sense Okusami would seek communal joy on this record, especially from musicians in the Brooklyn scene that has given Oceanator its home and the DC scene from which she got her start. Lonely feelings can skew apocalyptic when compounded with mental health struggles and an ever-frightening planet, but Okusami's exuberant songwriting and brawny arrangements manage to form a complexly colored and auspiciously bright sunset on the horizon. On Nothing's Ever Fine, the world might end. But it might not. And while we wait to find out, Oceanator delivers a revitalizing smack of sound and energy, helping us to remember that even if things don't turn out fine, we can make our time here worth it.