NY-based, dark-pop synth & guitar duo The Tablets are collaborating with Mon Amie Records flexi-disc series. Singles so far include "Not A Sign" and "I Of Nothing", and "New Lines".
About their latest single "New Lines", The Tablets share: "It's an upbeat approach to try to encourage people to part ways with the archaic beliefs and overused excuses they've long used as the acceptable basis for harming, or abusing others. It's trying to say: we should all be equals and should get along, but you still need to get your shit together and start understanding differently. B-side "Narcissus.Lament.Echo" is sort of a defeatist anthem. You're stuck in the same pattern all day, every day. You wish you could evolve, transcend, but you act otherwise. There's a masochistic pleasure derived from doing what you do, and you love complaining about it. Every now and then there's a bit of of hope, a tiny push of enlightenment. You realize some alternatives can be so much more terrifying, you will really try now, and you do, even if for a brief moment before going back to more of the usual."
Hailing from Brooklyn, NY, via San Diego, CA, The Tablets are Liz Godoy and Brenden Beu. Liz was born in Mexico, but met Brenden in San Diego, where they were both involved in the local underground music scene, playing shows with the likes of The Blackheart Procession and The Locust.
After relocating to NYC, Liz began writing and composing the tracks toThe Tablets self-titled LP as well as an EP titled Ground, all recorded and co-produced with the help of now permanent guitarist and collaborator Brenden. They return now with a series of digital and collectible flexi disc singles, to be released throughout 2017. You can still hear their wide range of influences from 60s garage and pop to dark 80s new wave.
Incorporating elements of her favorite childhood Mexican songwriters alongside girl-pop dance, Liz's understated yet sweet vocal and Farfisa melodies serve as the perfect balance to Brenden's gritty shoegaze guitar riffs.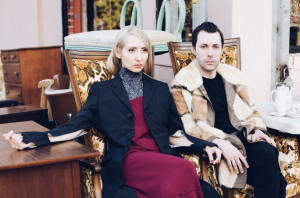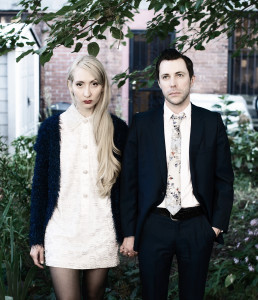 IMAGES: To download, click above. Photo credit: Jenna Putnam.
SINGLES:
"New Lines"