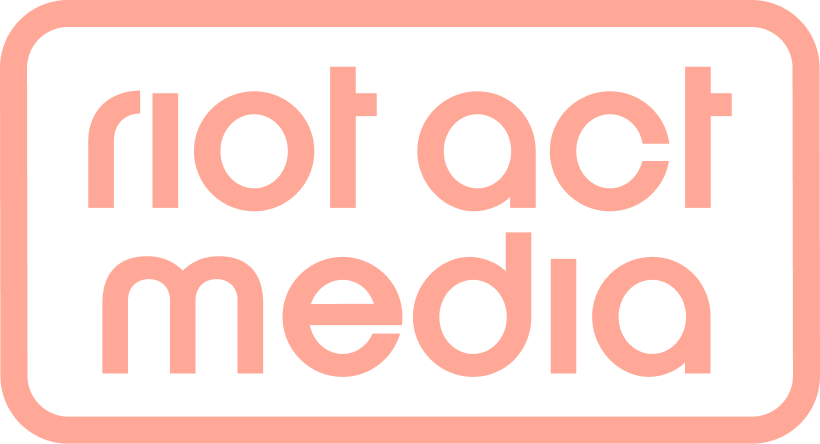 Artist
---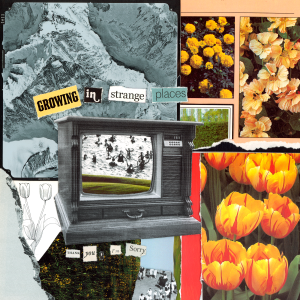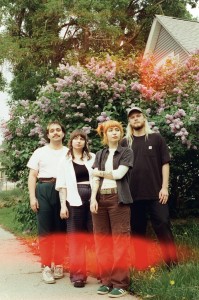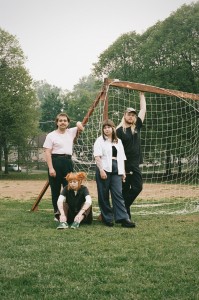 IMAGES: To download, click above. Credit to Callie Marino.
LINKS:
Count Your Lucky Stars Records
Bandcamp
Twitter
Instagram
Spotify
Apple Music
Amazon Music
Facebook
TikTok
THANK YOU, I'M SORRY
Count Your Lucky Stars
Anxiety is the first word sung on Thank You, I'm Sorry's first album. Back then it was just vocalist Lleen Dow's (they/them) voice and an acoustic, but three years and a full band, another album and several heart-rending singles later it's still on their mind. Anxiety never really goes away, but you can learn to cope and how to enjoy everything else. The respites, the joy, the excitement when anxiety takes a backseat. Thank You, I'm Sorry is growing, learning, indulging, experimenting and figuring it out. Together.
Thank You, I'm Sorry came together as a band to flesh out quiet, lonely songs Lleen built on their own, and they haven't stopped exploring and expanding their sound since. Bee Schreiner's (they/them) basslines effortlessly pull songs forward, knowing just when to nudge the band to avoid getting caught in an anxiety spiral. The drums from Sage Livergood (they/them) bring everything together, constantly keeping pace while poking out into fills that feel like they could shatter apart at any moment, yet always finding their way back. Abe Anderson's (he/him) and Lleen's guitar lines intertwine and bounce, refusing to sit still anywhere long enough to get bored. Thank You, I'm Sorry find ways to piece together parts that feel impossible to pin down or coalesce, making something beautiful and catchy that will bounce around your head for weeks.
Growing in Strange Places bio:
It starts with a homespun recording of kids yelling, acoustic guitar and gentle melodies about longing for youth. With their third full-length release Growing in Strange Places, Thank You, I'm Sorry set the stage with a callback to where the band started. A cymbal crash, and the quartet start to pull you along the journey of exploration they've been on since releasing The Malta House in 2020. Instruments expand, reverb shimmers, echoes and blasts of anxiety interrupt. Across the album's 13 tracks,Growing in Strange Places alternates chaotic dives into their worst impulses, polished pop about the pain of dragging yourself out of bed in the morning and, most importantly, where they find relief and joy from the internal din of anxiety.
Nerves are a nightmare but Thank You, I'm Sorry want to show you that you aren't alone. That nightmare can be fuel to explore and discover. Responsibility and growing up bring new pressures and fears, but also open you up to so much beauty. What's weird, what's unexpected, what's pretty, what's honest, what is to be cherished? Growing in Strange Places shows that these do not have singular, true answers but exploring them is worth overcoming the fear. You're not alone, nobody is. It's scary, but you're with us.
Track Listing:
1. Your Backyard
2. Autonomy Shop
3. Brain Empty
4. Mirror
5. Self Improvement
6. Interlude
7. Traincar
8. Chronically Online
9. Head Climbing
10. This House
11. Parking Lots
12. Lleeny Hut Jr
13. As I Should Be
Studio credits:
Lyrics, vocals, and guitar by Lleen Dow (they/them)
Guitar, vocals, percussion, and synths by Abe Anderson (he/him)
Bass, vocals by Bee Schreiner (they/them)
Drums and percussion by Sage Livergood (they/them)
All songs recorded, produced, and mixed by Abe Anderson at The Cloud Factory in Cannon Falls, Minnesota.
All songs mastered by Gradwell House in Haddon Heights, New Jersey.