Core members Meredith McHugh & Christian Best returning to Baltimore from Australia in 2017 saw the release of Smoke Bellow's sophomore album ISOLATION 3000 (Ehse, 2018), followed by a line-up shuffle. They eventually recruited one of their favorite drummers, and dear friend, Emmanuel Nicolaidis (Thank You, Oh Hang).
With Open for Business the three members set out to create a set of songs more immediate and bare than previous outings. The album title itself is a cheeky reference to Maryland governor Larry Hogan's less than inspired motto "we're open for business".
Half of the songs were written in a room together and the second half via email (for obvious reasons). At the time they were listening to a lot of post punk and were struck with the partnership of drums and bass as propulsive instruments. The trio started writing songs around that idea – with the rhythm as a brace to hang their decorations.
Sonically, Smoke Bellow are inspired by disparate sources. The heyday of Compass Point studios' famed rhythm section of Sly and Robbie sustained them for months. Others included good old VU, ESG, guitar hero Zani Diabate, The Raincoats (especially their under-appreciated second album, Odyshape), the frenetic sound collisions of the Flying Lizards, the ever warm blanket of Yo La Tengo, the evolving repetition of Stereolab, the understated genius of Asa Osborne, as well as Philip Glass and Steve Reich. The David Byrne/ Robert Wilson "Knee plays" reminded them of the joy of the spoken word set to music.
Lyrically, Best & McHugh drew from life in Baltimore, from isolation (again), memories of life in Melbourne, their friends and each other. "We wanted to talk about resilience and resistance." Says Best.
Recording and mixing took place between a remote cabin in the Smoky Mountains and Tempo House in Baltimore with Jared Paolini. "Maybe Something" includes cello from Owen Gardner (Horse Lords). Words on "Night Light" by Daniel Stephensen.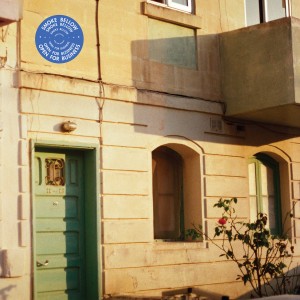 IMAGES: To download, click above. Photo courtesy of the band.
LINKS:
Trouble In Mind
Twitter
Facebook
Instagram
Bandcamp
Tumblr