Skux is the alter ego of Ayisha Jaffer in her new, emerging project that was spawned musically from a love of punk and a life-long admiration of the riot grrl movement. With the material co-written with Dan Walker of The Death Set, Jaffer performs live with her band between New Zealand, New York, and everywhere in between. Current location: Alaska.
Skux's debut release came in the form of a two-track, double A-side single titled The Two Sides of She which premiered worldwide last year on Noisey and was an instant hit on New Zealand Alt radio with "On Her Way" peaking at #1 on the official Radioscope Alt Charts for several weeks. The track also was playlisted on Spotify's New Music Friday, Weekend Buzz, and Fresh Finds alongside features on Vice, IndieShuffle, Under the Radar, Impose, and more.
This Indian, female-fronted punk rock outfit is a collaborative collective reaching across the aisle to other genres and mediums keeping the ethos of punk intact, working with the likes of artists such as French Horn Rebellion for remixing projects and opening for artists such as The Coathangers. As Jaffer has a history of industry experience, she aims to promote realized independence and relatability through her music, helping people leave their houses and get up out of bed, one human at a time.
Skux's upcoming release Kudis is a public service announcement to wake up, stop complaining, action your concerns, and conquer your goals while not taking yourself too seriously or those kudis will find you. Exploring several different genres of punk, from the heavy stuff to the nods to nostalgia, the EP is about expressing angst, love, carving your own path and defeating those dang kudis who've created an epidemic of haters that have infected our minds and the world. Out August 23rd, join Skux in the battle against Kudis.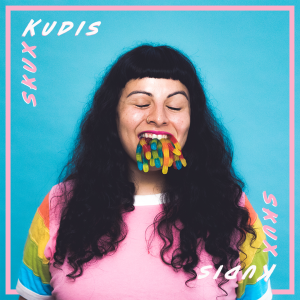 IMAGES: To download, click above. Credit to Matilda @ Wolfpack Creative
LINKS:
Website
Facebook
Twitter
Bandcamp
Instagram
Soundcloud
Apple Music
Spotify