Olympia, WA-based band, Jupiter Sprites debut with the shoegaze-driven "Save The Mystery", and announce their new self-titled EP, out Feb 1.
The music of Jupiter Sprites hovers through the air like an enigma. Their sound is a unique mosaic that is at once artistic, boldly experimental, graceful, and accessible. Drawing from melodic soundscapes of the 90's shoegaze movement and the polyrhythmic textures of modern electronic music, the band formed in Olympia, WA – a city steeped in musical history. With a history of collaboration since childhood, friends Max Keena (vocals/guitar) and Mike Elliott (drums) joined Alicia Capp (vocals/synth) in 2014, and later gained sister Portia Capp (bass/harmonies) to form what is quickly becoming one of the most original and striking bands in the Pacific Northwest.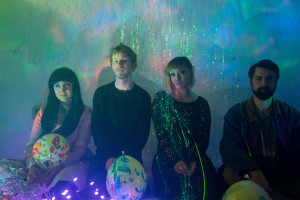 IMAGES: To download, click above. Photo credit: Bella King.
SINGLES:
"Save The Mystery"