The first official, illustrated history of DEVO, in a unique 2-in-1 book!
Calling all Spuds! Finally the truth can be told.
Here is the official DEVO story, from riots at Kent State University in 1970, through Punk and New Wave, international superstardom with Whip It!, the 1980s spent as all-American arch-ironists  and duty-freaks, through to the 21st century.
Several years in the making, co-founders Gerald V Casale and Mark Mothersbaugh have raided their archives for photos, artworks and memories for this uniquely DEVO book—a 2-in-1 upside-down thing of perverse beauty. Inside the softly rubberized covers of DEVO: The Brand / DEVO: Unmasked are photos of the Mothersbaugh and Casale clans at Christmas in the early 1960s, of pre-DEVO bands in action, Kent State-era art happenings, proto-DEVO doings and the whole, gaudy beauty of the DEVO world domination campaign from the evolution of the de-volution theory.
The result is the sumptuously illustrated and wholly remarkable story of DEVO's astounding career. DEVO: The Brand is illustrated throughout with classic iconography and music press interviews from major British and US publications; flip it over and DEVO: Unmasked, is packed with rare and unseen photos of the band from the 1960s to the present day. Commentary on the photos and DEVO history is provided throughout by Jerry and Mark in first-person testimony.
Available in two separate versions, The Classic, 320 page edition is presented in a two-color rubberized cover, while the limited run Signature edition contains DEVO: The Brand + DEVO: Unmasked as separate volumes inside a hand-crafted, rubberized clamshell box, signed by the band and containing a vintage DEVO artwork, co-created by Jerry and Mark.
Forewords are provided by Gerald V Casale, Booji Boy and Mark Mothersbaugh. Photographs include previously unseen images taken by DEVO family and friends, alongside rare, classic and candid shots taken by photographic greats including Moshe Brakha, Bob Gruen, Janet Macoska, Robert Mathieu, Ebet Roberts, Norman Seeff, Chris Stein, Allan Tannenbaum, and many more.
SEE! DEVO in various states of undress, unmasked and raw.
READ! DEVO as they've never written before.
DUTY NOW FOR THE FUTURE
DEVO: The Brand / DEVO: Unmasked is available for preorder now, only at devobook.net. DO IT NOW and get your name printed in the book.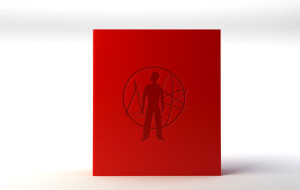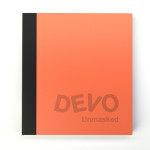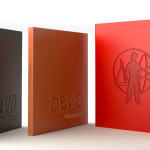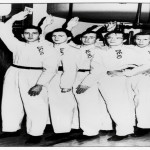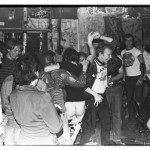 IMAGES: To download, click above. All book images courtesy of Rocket88 and must mention www.devobook.net.
Band Image From DEVO The Brand:
Caption in the book: Rare DEVO promo photo with Jim Mothersbaugh (far right), 1977.
Credit to: DEVO Archives
A Stiff Records promo pic which is rare because Jim Mothersbaugh is in the shot in place of Alan Myers who couldn't make it to the shoot that day.
Band Image From DEVO Unmasked:
Caption in the book: DEVO Live at CBGB, New York, May 1977, (l–r) Mark minus trousers, Cheetah Chrome dancing, Jerry in mask
Credit to: Bobbie Watson Whitaker