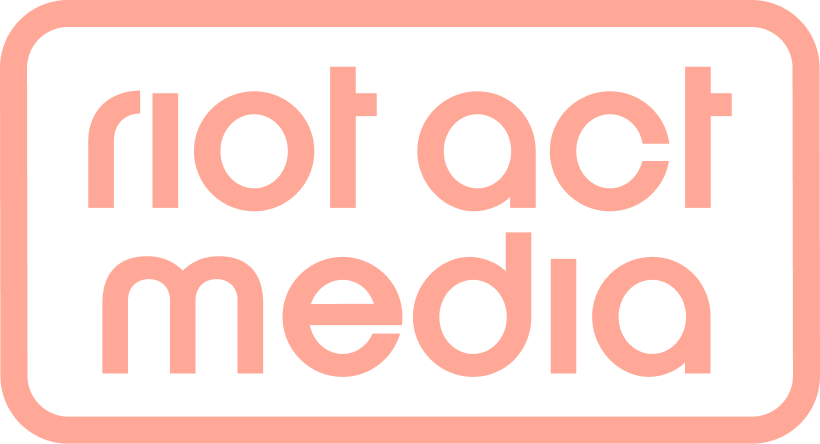 Artist
---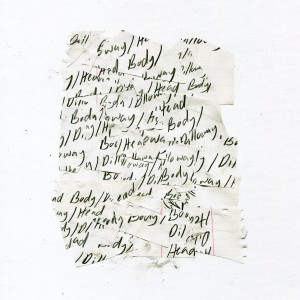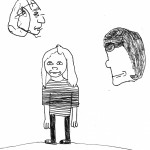 IMAGES: To download, click above. Illustration by Joey Maloinkey.
LINKS:
Website
Three Lobed
Body/Dilloway/Head
Three Lobed
This record is the most head-on excavation of temporal fallibility that I've heard in a very, very long time.
Aaron Dilloway operates as a solo artist, but collaborates ceaselessly, whether as a former member of Wolf Eyes or in innumerable other contexts. Body/Head is the duo of Kim Gordon and Bill Nace. Nace has charted an iconoclastic trajectory as a freewheeling improviser and composer on his own and in group settings. Gordon, best known as a member of Sonic Youth, was always active outside that band during its existence and continues to expand her tireless horizons since its dissolution.
To put it plain, on there are guitars and vocals and magnetic tape and amplification. These elements interact with the aid of effects machines. But the technical aspects of how it was crafted matter not a whit. Plus, any attempt to describe the nature of this particular collaboration is fraught. It's impossible to say where lines might get drawn, because there simply aren't any. Even the boundaries between processing and playing are erased. Every time it sounds like Aaron Dilloway processing Body/Head, you blink or turn your head and it sounds like Body/Head playing Aaron Dilloway. You can sift back through the tributaries of this formidable collective discography and be just as flummoxed. The similarities and the distinctions are endless. It's impossible to tell where one stops and the other starts.
The shifts in the pieces can seem to come out of nowhere. Over and over one gets the sense that the music is trying to wake itself from a dream. Gordon and Nace's guitars churn against Dilloway's serpentine loops and squealing treatments. The components entwine like brambles, crawling and building, moving even when seeming to rest.
It starts with a low hum and some garbled murmurings. Birth should have been like that, you might find yourself thinking. It threatens to start. It halts. It holds. It hovers. It lurches. Dilloway's hand looms large, and after a while, the familiar pulse of Nace and Gordon's guitars enters, and as soon as you start to orient yourself, you're lost again. The atmospheres melt into one another. The piece arcs slowly. Plateaus and vistas. This is the side-long lead-off, "Body/Erase."
Flip the record over.
"Goin' Down" is almost plaintive in feel, yet mathematical in structure. There's something about the way it occurs in time. There's a place somewhere in the brain (mine, at least) where the wide open vistas of desert highways and the compulsive interior pressure of insomniac experience meet and twirl and dance and laugh and shudder. It's exhausting and exhilarating, familiar and strange, terrifying and comforting, but it's the only place I've ever been that seems like a deity might be nearby, so it's cool to find a track that evokes that.
"Secret Cuts" starts off like a sentient machine breathing heavily in the summer heat, and then begins to subsume itself many times over. Fragments of Gordon's vocals flutter in and out, traversing blurred clouds. Amp noise gurgles. Guitar loops stutter. The piece builds to a shimmering mirage, then nose-dives into still black waters and shorts out like a downed power line. If disquieting drama appeals to you, the notion has perhaps here reached its sonic peak.
One of this music's many pleasures is the inability to identify specific emotions within it, despite the undeniable emotional responses it elicits. These are memories of moods, nascent feelings we haven't grown into yet. This record is as disorienting a listening experience as you're likely to encounter these days, and in a world this fucked up, that's really saying something. Handle with care.
Matt Krefting
Holyoke, MA
2021