The world has gone through a major shift, and as every writer knows, this means we have entered a "new world". Los Angeles based duo, All Things Blue, latest EP Nothing Special is stepping in to acknowledge the change personally.
While 2020's LP Get Bit lends itself as a mirror between (often failing) global structures and the individual self, Nothing Special grapples with the one aspect of life too all-encompassing to understand through tangible logic or information. It's Love, and not a perfect one.  "It's not real, these chemicals that we feel. Like suddenly I'm alright again, I don't have time for that" we hear in Garbage Love, a reference seeming to acknowledge that the writer doesn't want these feelings to include a major life eclipse. Yet, this new world has left many to examine the stripped down values behind what "the everyday" once had to offer. "Typically when I'm asked to decide between career and love life I choose career. I enjoy the time that working on projects fills and I love having the privilege to create art. However, nothing fully takes hold of my mind, barring me from the distressing thoughts of existential dread like the feeling of loving someone…." explains India Coombs, one half of the All Things Blue project. Even here the tone feels resistant to the grips of this romance, maybe rightfully so, as she pauses and finishes her thoughts with the line "…a common story of unrequited love."
Her words are not the only language in this album to express juxtaposition between dreamy bliss and the whiplash of being snapped back to reality (op there goes gravity). Sonically, Nothing Special leaves you riding the waves of limbo between different worlds, different time periods, different value systems. Undertones of classic songs from the golden age of pop including The Ronnettes and The Beach Boys have been shuffled through the grand doors where Tame Impala and crew blew out the speakers and then taken outside for fresh air, only to be swept up by the sounds of Andy Schauf and Sam Evian playing their tender tunes. Jon Joseph and India Coombs don't live in the large club of people observing and drawing from these musical styles- they were cut from the same cloth. You can feel it in the ever changing balance between something so excitingly futuristic and so inherently, and comfortably, known. 
Nothing Special sounds like love. The kind that forms in a new world, that comes with losses of old ideals, that is met with logical resistance and divine acceptance. The kind of love that makes you look around and wonder, "well, what could possibly be better than this?"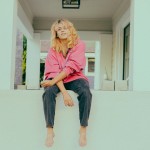 IMAGES: To download, click above. Press photo credit to Shabnam Ferdowsi.