Versing's Nirvana is out now on Help Yourself + Decency Den Records. 
RIYL: Pavement, Sonic Youth, Ought, Parquet Courts, Flying Nun bands
It takes some guts for a loud rock band from Seattle to name their debut LP Nirvana. Versing is not a timid band, and the name is not intended as a joke. Frontman Daniel Salas describes his concept of "nirvana" as an undeserved sense of self-forgiveness one sometimes feels in the wake of terrible decision-making, akin to "those brain memes where the brain gets bigger and more cosmic the worse the ideas get." Nirvana the album also embodies contradictions: terse and expansive, anxious and confident, aggressive and intimate, physical and cerebral. Live and on record, the four-piece band heaves, stutters, undulates, and chimes in perfect symbiosis, wringing every erg and crackling watt from their instruments.
The members of Versing — Salas and Graham Baker on hook-and-jab guitars, bassist Kirby Lochner and drummer Max Keyes bobbing and weaving — came together in the gravity of the college radio station KUPS in Tacoma, WA in 2013. The band moved to Seattle the next year and have proven themselves one of the city's hardest-working bands, logging a relentless itinerary of ferocious live performances in clubs, bars, basements, lofts, pizza parlors, and other spaces in the Pacific Northwest and along the West Coast. They have two self-released EPs, 2016's unassailable Nude Descending and the early-2017 tour cassette Tape, which also served as an advance single for album track "The Draw."
This 11-song album is released by Help Yourself digitally and on cassette and Decency Den on CD. It was recorded in April 2016 at Electrokitty Studios in Seattle with José Rohena Díaz (Chastity Belt, Tacocat) at the board. Versing have recently nationally toured with Flying Nun band, The Courtneys.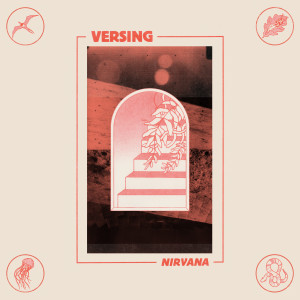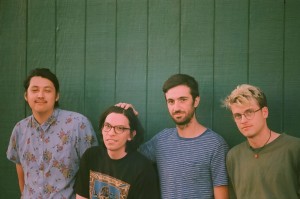 IMAGES: To download, click above. Photo credit: Conner Lyons.
SINGLES:
"Radio Kinski"
LINKS:
Help Yourself
Decency Den Records
Facebook
Bandcamp
Instagram
Twitter