This Is Tunng… Magpie Bites and Other Cuts
Since forming in 2003 and over the course of six studio albums, Tunng are a group that have explored the boundaries between acoustic and electronic music, becoming synonymous with the folktronica genre before moving into territory that managed to both evade that label and continue to redefine it. This is a collection of rare gems and oddities released from 2004 to 2018. These are the 7 inches, special editions, b sides and hidden tracks that would otherwise be lost in the ether.  Here they are sitting side by side like a wonky gang, leaning in to share their strange tales. Co-founder Mike Lindsay invites you to sit a little closer to hear their story:
Heatwave (2018) A track written one hot and sticky morning whilst working on "Songs you Make at Night". It gleefully wrote itself while Sam was dancing around the mixing desk, but it never belonged on the album. It was however released on a 7" supplement with the special edition of that album.
The Pioneers (2005) This is a cover of a song by Bloc Party. I can't

     

remember why we chose to do this, other than it's a great song and we were having talks with their label at the time, so perhaps thought it might help get us signed! It was used on the American TV series "The O.C" later that year alongside the original version. Then Released on Static Caravan records as a 1 sided Etched 7".
Bodies (2006) This was a bonus track on the CD version of the album "Comments Of The Inner Chorus"

 

This song has become a staple in our live shows, but we havn't heard the recorded version of this since it was released. It has morphed a bit over the years.
Pool Beneath The Pond (2004) This is the B side to the first ever tunng release on 7", "Tale From Black" on Static Caravan records. We love this song, it has the wonkiest of production, with distorted banjo, double Bass, vocoder, electronica and beer can solos.

 

We could never quite pull it off live though.
Death and The Maiden Retold (2006) This was on an Imagined Village compilation. It's a reworking of a traditional folk song arranged in a very untraditional way and the lyrics have been warped by Sam to fit with his odd mind.
Bank Holiday (2018) The other tune that didn't seem to belong on "Songs You Make at Night" This was also on the supplement 7 inch.

 

We had many heated discussions about including this track, its pure timeless tunng…turn it up!
No Man Can Find the War (2005) This was the first tune we put out on Full Time Hobby, the beginning of a long and sweet relationship. This was part of a CD compilation of Tim and Jeff Buckley covers. This song is by Tim Buckley
Magpie Bites (2006) This was on a 7" put out by the Dutch label "Nowhere Fast". It came together really fast and I think we gave it to Rene (label owner) a week after he asked us to do the 7 with him. Its pure magic.
Clump (2008) An extra track on the CD special edition version of the album "Good Arrows". It has Wonderfully strange timing which proved really tricky when we attempted to play it live. It became a tunng favourite at the time.
Band Stand (2006) This was a hidden track on the CD version of "Comments Of The Inner Chorus". It features Becky calling out to her boyfriend Billy whilst on tour in Europe. This conjures up many memories of our travels at that time which were full of pure joy and hedonism.
Peanuts (2007) This was released on split 10inch by a label called "The Great Pop Supplement" We were asked to make a new tune for it, but took a very long time to get around to it. The song is actually an apology for taking so long to write and record the song.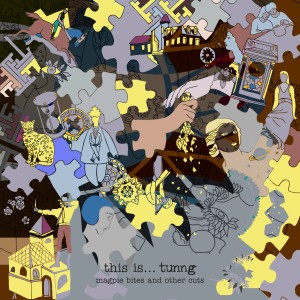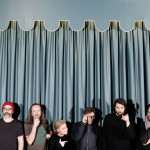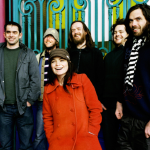 IMAGES: To download, click above. Press photo credit to Pedro Anguila.
LINKS:
Website
Full Time Hobby
Facebook
Bandcamp
SoundCloud
Twitter
Instagram
Youtube