We first heard Tashi Dorji's name via Ben Chasny's effusive praise. We soon found out what Ben already knew: that Tashi is one of the most creative, singular, and exciting solo guitarists on the scene today. We were hoping to be first to release Tashi's music on vinyl, but Bathetic, Blue Tapes, and Chasny's own Hermit Hut imprint beat us to it. That's when we hatched a plan to pair him with the equally great, equally singular guitarist Marisa Anderson for a split LP.
Marisa Anderson is a tremendous inspiration to us at Footfalls Records. Her playing, like Marisa herself, exemplifies the honesty, strength, and innovation we admire in players from John Lee Hooker to Jessie Mae Hemphill to Neil Young. Building on established American musical idioms (folk, country, blues) without ever relying on tired cliches, Marisa's immediately recognizable style instantly captivated us, and we've been devoted fans ever since.
We really couldn't think of a better way to introduce Footfalls Records than with this split LP release. Truly, we feel that both Tashi and Marisa embody what could be called future guitar music; indeed, the next generation's benders of wood and wire may have a lot of catching up to do.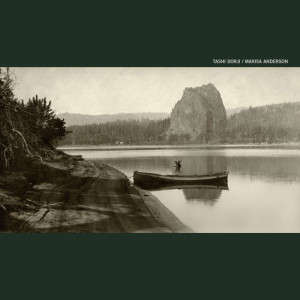 IMAGES: To download, click above.
SINGLES:
Tashi Dorji's "Karma Lata"
LINKS:
Footfalls Records
Marissa Anderson Website
Tashi Dorji Website
Marissa Anderson on Facebook
Tashi Dorji on Twitter
Footfalls on Twitter