Purple Pilgrims' sophomore album, Perfumed Earth is out August 9 on Flying Nun Records.
New Zealand sisters Valentine and Clementine Nixon aka Purple Pilgrims refer to Perfumed Earth, their sublime sophomore full-length – and first for historic indie Flying Nun – as "kind of like a rebirth." The duo retreated to the same wooded sanctuary studio in the wilds of Tapu where they tracked their 2016 debut, Eternal Delight, but this time in a calmer, more contemplative headspace: "internal white noise subsided and we really started to appreciate the peace of our environment."
Aided, too, by a vaster cast of collaborators, they fashioned "a very modern/mobile band," combining local recordings with inspired long-distance overdubs. Frequent ally Gary War contributed bass and synth from various American motel rooms while on tour with John Maus; lush live drums came courtesy of lauded Lorde keyboardist Jimmy Mac, ex-Surf City guitarist Joshua Kennedy layered in additional tiers of jangle and fuzz; veteran improvisational experimentalist Jeff Henderson cameos with subtle arcs of saxophone on the divine "Delphiniums In Harmony / Two Worlds Away"; and even legendary six-string expressionist Roy Montgomery makes a guest appearance, weaving tendrils of heavenly electricity within one of the album's darkest highlights "Ruinous Splendour."
The results were then mixed in Mount Eden, Auckland, with engineer Thomas Healy, utilising his sizable collection of vintage tape machines, arriving at a sound both spacious and sensual, swooning and spellbound. Certain songs rank among the most proper enchantress pop yet ventured in the Purple Pilgrims canon, while others shimmer with more veiled kaleidoscopic textures, yet taken as a whole Perfumed Earth presents a persuasive evolutionary step forward. The sisters intertwined voices soar, seduce, and slowdive, radiating rich spectrums of archetypal experience: journeys, longing, homecomings. Theirs is a unique nexus of paradise and isolation, beauty and blankness, ritual and the right now; or as they phrase it: "ancient imagery expressed through a modern lens – folks songs played on synthesized instruments."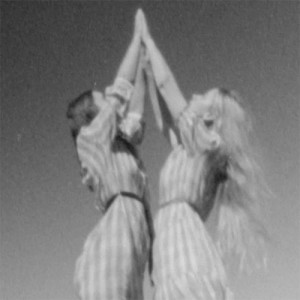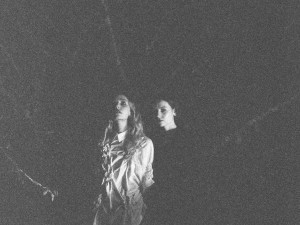 IMAGES: To download, click above. Photo credit: Olivia Renouf.
SINGLES:
"Two Worlds Apart" (watch)