One Hundred Percent's debut full-length, All Teeth and Nails, out November 5th on 20 Sided Records.
Before we get ahead of ourselves, One Hundred Percent has always been a loud-as-Hell rock band. Graduating from Bay Area acts like The Creeps and Switchblade Riot, it's no surprise that the three members of San Francisco's latest buzz-worthy band will bring the noise. Yet, just being loud is only half the story. What they don't tell you is just how solid One Hundred Percent is at the heavy, guitar driven, and intensely layered indie rock which they do in fact bring. In one motion, One Hundred Percent can bring up a soaring and hazily sky written shoegaze melody that seamlessly morphs into a searing blitz attack of post-punk percussion, and finally clocks in with a devastating Sonic Youth-esqe freakout. Since early 2012, the band has been not so quietly perfecting their evocative concoction in and around the city. Now, that noise pays off in the form of their debut LP, All Teeth and Nails, set for release this fall on San Francisco's increasingly addictive 20 Sided Records.
One Hundred Percent is a band absorbed with a lifetime's worth of the genre-bending underground rock that evolved out of a repressed youth decades ago. We are talking back in the day, when Dinosaur Jr. was melting faces and My Bloody Valentine was ringing out ears everywhere. That's the stuff that guitarist and vocalist Matt Habegger is talking about anyways. Stepping out from behind a bass for the first time, Habegger makes like a veteran frontman, writing a storied score that's told in the grizzled, strained yells he lashes out over his double-amped axe. Literally plugged into two amps, Habegger gives out textured and surprisingly resonant sounds considering this is "loud-as-Hell rock" after all. Add in bassist Ryan Christo, also double-amped (naturally), who growls out a mean line with the best of them, strumming along as the cornerstone of this tidal wave of noise. Did I mention these guys are loud? Well, they'd have to be just to be heard over drummer Jay Fruy, always ready to roll with a pounding beat.
So far, One Hundred Percent has offered up some exciting snippets of their sound, in the form of two EPs and some singles, you know, just putting the name out there.  Still, those early peeks don't do any justice to their full-length debut. All Teeth And Nails is a different breed of beastly; cleaner production, heavier riffs, an overall step up in sound and a massively listenable collection of songs. A feat made even more impressive given the fact that All Teeth and Nails is a strictly DIY self-recorded and produced album that the three bandmates collaboratively saw from start to finish. Don't fret, it's still loud and insanely fuzzed, just now the epicness factor is maxed out as the band delivers their most accomplished stuff to date. All Teeth And Nails is actually One Hundred Percent's perfect introduction, a blend of the band's last two years with a host of fresh ideas mixed in, for one fully accessible and roaring rock album ready to raise some serious excitement.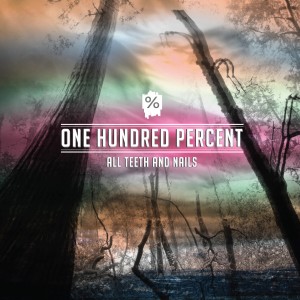 IMAGES: To download, click above.
LINKS:
One Hundred Percent
Vimeo
Facebook
MP3:
"Lowbar"