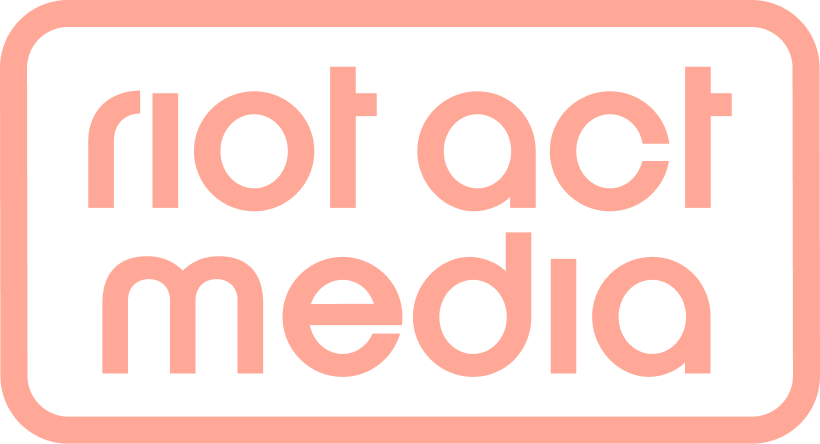 Artist
---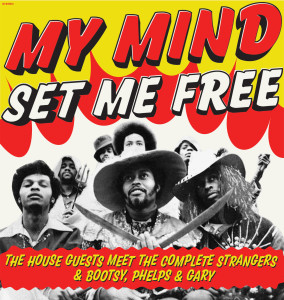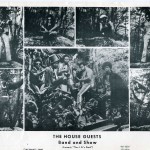 IMAGES: To download, click above. Photo provided by William Collins.
LINKS:
Bootsy Collins Website
Shake It!
Bootsy on Twitter
Bootsy on Facebook
HOUSE GUESTS
Shake It
The stories are ripe for a biopic. There was the time, traveling to or from a gig in Chattanooga, Tennessee, that bassist Bootsy Collins' Lincoln caught on fire, and singer Rufus Allen shouted awake his dozing bandmates, drummer Frankie "Kash" Waddy and trumpeter Clayton "Chicken" Gunnells. Or the time Collins' older brother, guitarist Phelps "Catfish" Collins, dressed for the stage in full circus-clown regalia, had too much to drink and nearly broke his neck. Or the time Collins had a gun pulled on him when he went to collect the night's pay.
There was the Cadillac funeral hearse, which they used to carry their equipment to one-nighters at rooms with fantastic names like the Psychedelic Grave, where they debuted on a bill with the Ohio Players (and stole the show), and the Roundup Club, a Kentucky joint whose main attraction was a caged bear named Beaver.
And then there was the festival gig at Ohio's Central State University that resulted in a mild riot. Allen—whom Bootsy recalls as "definitely the number-one James Brown in Cincinnati"—punctuated the band's unshakeable groove with a Godfather-style split, leaping off the stage and onto the venue's floor. The room simply exploded; the kids rushed the stage; the girls tore Allen's shirt off; and the band hid out in their dressing room as security tried to keep the peace. The organizers asked the rowdy crowd to settle down so that the event's headliner, Gladys Knight & the Pips, could take the stage. But the kids didn't want the Pips. They wanted the House Guests.
Many, many ecstatic concertgoers, as well as two of the greatest bandleaders in the history of R&B, soul and rock, have wanted the House Guests, albeit not necessarily by that name. When James Brown wanted them, they were called the Pacemakers; when Brown employed them on some of his most important and influential hits, they were known as the Original JB's; and when the Motor City visionary George Clinton recruited them, they came to be known as Funkadelic. Later, they developed a groundbreaking school of psychedelic space-funk as the Complete Strangers and, finally, Bootsy's Rubber Band.
But for a brief, fleeting moment of divine semi-obscurity, at home in funk-rich Ohio and on the great American road, they were the House Guests. "Couldn't nobody tell us we weren't doing it right, because we didn't really care," Bootsy recalls today, bursting into one of his spirit-filling chuckles. "We just loved what we were doing, we loved each other and we loved traveling. We were just having a great time. And it all showed in the music."
Now, for the first time ever, on August 23rd, a nine-track official collection of choice House Guests' recordings & related groups are available from Cincinnati's Shake It Records on limited-edition LP.
***
Frankie "Kash" Waddy took up the drums when he was only 2 years old and quickly began his lifelong obsession with rhythm. He played in various bands growing up in Cincinnati, but nothing ever quite clicked. "I was reaching and searching. I didn't know what I needed," he recalls. "I saw Bootsy and Catfish one day and it was a done deal." Like Waddy, the two brothers respected their elders in R&B, blues, rock-and-roll and soul-jazz, and loved to progress and work on original material. They also shared the drummer's willingness to practice nonstop, and gig anywhere, and with anyone, that would have them. "Everywhere we went," Waddy says, "we got hired as a unit."
That included work as the go-to rhythm section for the legendary Cincinnati-based King label, including King artists like the pre-James Brown R&B great Hank Ballard. In fact, it was with Ballard that Waddy and company first went to New York to perform—in a Dodge Dart station wagon whose brakes gave out at the mouth of the Holland Tunnel. The experience was terrifying, but teen spirit prevailed. "That wasn't so crazy, because when we looked up," Waddy reflects, laughing, "we were in New York City."
It was through King, the parent label to Federal Records, which released James Brown's earliest hits, that the band came to the attention of Mr. Dynamite. The story ranks among the greatest anecdotes in rock-and-roll history: Brown, in a money-related standoff with his band in March of 1970, sends for a little-known Cincinnati-based R&B band called the Pacemakers: Bootsy, Catfish, Waddy and a couple of groove-savvy hornmen, "Chicken" Gunnels and saxophonist Robert "Chopper" McCollough. The young musicians board their first-ever limousine, which takes them to their first airplane, and arrive backstage at a theater in Columbus, Georgia, where "we were coming to replace the James Brown Orchestra—our idols," Waddy recalls. "We were the last to know anything." After the gig, an elated Brown starts quoting generous amounts of cash, and it takes the newly knighted JB's a moment to realize that he's talking about each player's pay, not the full-band fee. A dream ensues over most of the following year: a posh bus, a complete outfitting of VOX equipment, a stream of the funkiest platters in the history of recorded music—"Super Bad," "Soul Power," "Sex Machine" and "Talking Loud and Saying Nothing" among them.
"James was like that funny uncle," Waddy recalls. "He was too old for us hang with, and at the same time, we were too young for him to scare us." Still, the Godfather gripped the reins tightly, and as 1970 grinded into '71, a little bit of creative freedom looked like a great idea. After breaking with Brown in waves and moving back to Cincinnati, the Collins brothers, Waddy, Gunnells and McCollough received a welcome that might politely be called multifaceted. Some fellow musicians viewed them as a threat; some thought they were nuts to leave Soul Brother Number One for the Rust Belt; still others, like the singer Rufus Allen, a local standout who'd played with the Collins brothers in his very first band, the Valutations, were just happy to see their old pals.
It didn't take long for the House Guests—which Bootsy named for the budget-friendly hospitality they often required on the road—to ignite, as the tracks on My Mind Set Me Free attest. Before earning their graduate degree in groove via a year with James Brown, the unit was dynamic but undisciplined—or, as Waddy puts it, "the conversation had no punctuation." Now "the one" ruled all, and with Allen at the helm, a gifted showman whose rhythm-first approach was straight out of Brown's playbook, the House Guests could deliver an airtight JB's experience to packed-out clubs. At the same time, the ascendant psychedelic era was infusing the funk with welcome new dimensions from cosmic jazz, fusion, acid rock and just plain old acid. Hot pants, paisley, makeup and flowered hats became staples of the House Guests' stage wear, as their sonics expanded with wah-wah, overdrive and other nascent electronic effects. "The time was coming where bands wanted to be freaky," Bootsy says. But in the end, the takeaway was a jaw-droppingly good group. "They would laugh at our outfits," Allen recalls, "but when [the House Guests] hit, people was amazed."
The House Guests secured a manager, Walter Whisenhunt, who'd been a promotor for Brown and was married to singer Gloria Taylor. He also acted as producer on some of the band's recordings (and, because the House Guests were having too much fun for good business, gifted himself with some publishing rights and songwriting credits). Studios were chosen based on a specific criterion—"whoever would let us in without no money," Bootsy says. Label interest was nil and radio play was minimal, but the gigs and good times were too plentiful to give a care. "The only thing I was paying attention to was the music, really," Bootsy says.
The House Guests had a habit of stealing the show from the headliners they were opening for, and such was the case when they hit before George Clinton's Funkadelic, then a still-rising, cult-like act who dared to nudge the funk onto slower, spacier terrain. "I woke up the next morning in the hotel, and Bootsy had called a special meeting," Allen remembers. "He said, 'Listen, George Clinton wants us to be his band. … There's only one thing he doesn't want. He doesn't want Rufus."
Allen's heart sank, but he couldn't argue against his friends seizing an opportunity. "I said, 'I'll be alright. Just give me my pay and I'll go on back home. I'm gonna keep doing me.'"
"[George] needed a band," Waddy recalls. "He needed to go in another direction. He said, 'Y'all help me do this, and I'll help y'all get a deal.' And he stuck to his word."
The rest is history, and the House Guests are an invaluable if unsung piece of that history—"the link," Waddy says, "between the Original James Brown JB's and Funkadelic."
For the surviving House Guests, looking back can be inspiring, hilarious or melancholy, or, most often, all of those at once. For Bootsy, to hear his late brother play guitar is to miss him. "I probably will never be able to get to the depth of what that feeling is," he says. "We all thought we were gonna live forever. We all thought we were gonna be together forever."
Evan Haga, May 2019