Drinking Boys and Girls Choir are a skate-punk trio from Daegu City, Korea. Formed in 2013 when two drummers MJ and Meena shared a rehearsal space, and decided to form a band. Meena switched to Bass and guitarist Bondu (who had just finished his military service) answered their ad. They bonded over a shared love of drinking, skating and punk.
Inspired by Sum41, NOFX and Daegu's 90s-00s hardcore punk/indie-rock scene before it moved to Seoul, a topic band are very passionate abou. They won't move to the capital, prefering to nurture a sustainable local scene.
The recording of Keep Drinking started in 2017, but MJ suffered a serious motobike accident, so the band took a hiatus while awaiting her recovery. When she was fit again, they DIY produced this 18 track debut album, which follows their 2015 EP 'We are'.
Recorded and Mixed by Byeongwook Choi at Daegu Music Factory and Kame house respectively and mastered by Seunggyun Chae (Sonic Korea).
Carefully planned since the band's inception, with 100% heart driving the trio, so happy to be able to play again after MJ's accident. There is a lot going on, with each member writing and singing. Stylistically it jumps from Skate-Punk, to melodic Hardcore, to more drawn out Indie-rock. Myeong-Jin's snare is relentless, Meena's all over the fretboard and Bondu rocks out on a Gibson Flying V. Live the band are often shut down by police for playing too loud or for their anti police/state control lyrics (as on their Indonesian tour) but they are building a Korean fanbase and debut at SXSW and the UK later in 2019.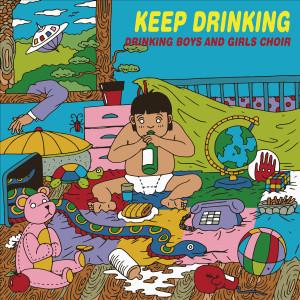 IMAGES: To download, click above.
LINKS:
Damnably Records
Bandcamp
Instagram
Spotify
Facebook
Twitter