Bod Releases True Cinnamon April 14, 2017 on Swoon Records. 
True Cinnamon marks bod's second release since they formed in late 2013. The songs are an aggressive exploration inwards, a post-post-adolescent re-calibration. They are millennial anxiety, where the vivid colors and purity of childhood memories clash with the dark realities of a world in turmoil. To be alive and connected today is to be nothing less than overwhelmed.
As we feel hyper-aware in modern times, Bod naturally samples ideas from the steady torrent of emotions, colors, and sounds of their world. Conventional knowledge shows that tossing too many ingredients into the pot can kill the flavor, but bod manages to subtractively sculpt that noise into something direct and distinct, yet somehow familiar. While twin guitars melodically dance through each other like a flight of swallows, the rhythm section echoes up like a terrible machine from the depths of a bottomless canyon. Synthesizers fall like hot rain and the vocals speak to you like a half-dream at the onset of sleep.
Their playful personality cannot be hidden, though. Remember that Kids in the Hall sketch when Dave Foley wore a Smiths shirt?  That's pretty much Bod. They draw upon influences ranging from D'Angelo to Deerhoof, Can to Cate Le Bon, Bjork to Big Star.
Bod features current and former members of Oberhofer, EZTV, Telekinesis, Sloucher, Crater, and Boat. While they are currently in the process of releasing the "True Cinnamon" EP, they have also been working on a full length with Telekinesis' Micheal Lerner, expected to release in the fall of 2017.
Bod is: 
Jonathan Angle: Drums
Zach Dimmick: Guitars/ Synths
Lance Umble: Bass
Ben Roth: Vocals/ Guitars/ Synths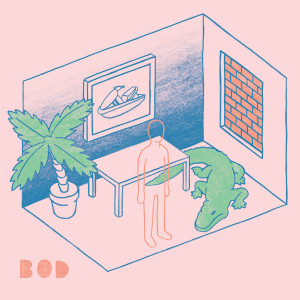 IMAGES: To download, click above.
LINKS: