Digital Release's debut LP Positive Approach is out November 17 on Drawing Room Records.
RIYL:  Georgia, RVNG INTL., Chris and Cosey, Brian Eno, Aphex Twin, Improv Electronics
The collective cranium of Digital Release make deep psychic-technology sounds. It's music that travels in spheres and projections with an understanding of global tunings, improvisational space, and a future full of possibilities / impossibilities. It's a tripped wire behind the mind's most distant wall. Think My Life In the Bush of Ghosts as if conceived by Chris and Cosey and you are almost there. Almost…
If the description above sounds near impossible, don't underestimate the abilities that comprise Digital Release. With a collaboration that consists of Brian Close and Justin Tripp (both of the ground-breaking multi-media makers Georgia) alongside Matt Werth (RVNG Intl. Label / Commend Head), nothing about Digital Release seems what it is. Dreams are real. Music is visual, an optic open for the business of mysticism and mischief.
The trio is three parts of a close eco-system of like minds wandering and pondering about NYC. For over ten years now, Close and Tripp as Georgia have been go-to auteurs for beatifically blending the new with the old, the in with the out, and the global with the personal into sonic pulses which create all new conventions. As founder / owner of RVNG Intl., it's possible to write a dissertation on the new and unusual musical roads Werth has overseen and brought to life. 
Positive Approach presents the first recorded output of the trio (having collaborated in other music and visual settings before), the result of an unhinged two-day session where the improvised music pushed and prodded itself into eight essential tracks. What Digital Release has concocted for Positive Approach goes beyond listening to occupy the very particle matter of sound. It's an evolving concept that is post-human. To be eaten with secret fruit… To be played at maximum headspace…
Mastered by Josh Bonati and pressed on 180 gram vinyl, the LP comes in a full-colored gloss sleeve and includes an insert and 22×22" fold-out poster, all with art work from the talented delights of Brian Close.
Great Baws, Great Baws from Georgia on Vimeo.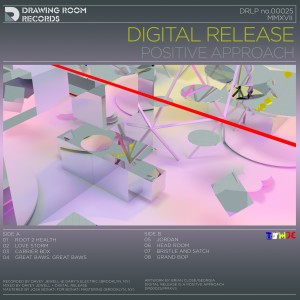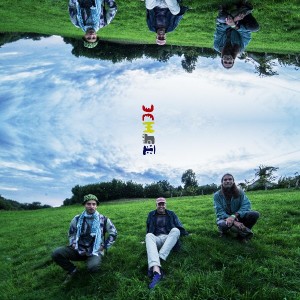 IMAGES: To download, click above. Photo credit: Nathan Corbin.
SINGLES:
"Great Baws, Great Baws"
LINKS:
Drawing Room Records
Website