Jacob James has long been a secret weapon in an exclusive list of Northwest and national bands. Over the past decade he has played and sung with Harvey Danger, Brandi Carlile, J. Tillman, Damien Jurado, Tilson XOXO, The Secret Sisters, Grand Archives, The Lashes, and many others.
James' upcoming autumn release 'RETROFUTURE' sees him out from the shadows and into the spotlight. Written, recorded, and mixed in the first two weeks of 2017, the record explores themes of otherness, loss, forgiveness, and retribution. Despite the brief period over which it was conceived and produced, the album is full and lush, crammed to the brim with horns, strings, crummy old drum machines, otherworldly guitar tones, and features James' signature tenor throughout.
James is joined on the record by percussionist Aaron Benson (Pickwick, Cataldo). The LP was Mastered by Philip Peterson at The House Of Breaking Glass.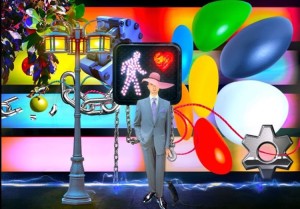 IMAGES: To download, click above. Photo credit Frank Correa.
LINKS:
Facebook
Soundcloud
Bandcamp
Instagram